Seal Out Decay!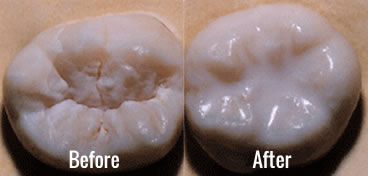 Dental sealants are primarily for kids but can benefit almost anybody. The likelihood of developing pit and fissure decay begins early in life, so children and teenagers are obvious candidates, but adults can benefit from sealants as well.
Cavities are the most common childhood disease.
Dental cavities remain the most common chronic disease of children 6 to 19 years of age. Dental sealants can help prevent cavities before they start. Dental sealants act as a barrier to prevent cavities. They are a plastic material usually applied to the chewing surfaces of the back teeth (premolars and molars) where decay occurs most often.
Sealants are an inexpensive way to prevent cavities and in the long run can save you money. Talk to Dr. Jasleen Benepal or Dr. Dilvir Toor about how preventing cavities now can not only keep your mouth healthy but save you money down the road.